...
---
Featured Books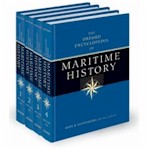 The Oxford Encyclopedia of Maritime History
4 Volume Set (Hardcover)
John B. Hattendorf (Editor)
Here is an encyclopedia of maritime history that, in scope and depth, rivals the expansiveness of the sea itself. The Encyclopedia covers the entire history of seafaring, from ancient Egyptian shipbuilders to Viking sea-raiders, from Nelson and the Napoleonic Wars to the voyages of Cheng Ho, from the European conquerors of the New World to the nuclear submarines and supertankers of today.
---
Directory of Boating, Marine and Watersports Web Sites

Boats
Brokerage, Manufacturers, Classic, Tallships, more...
Education and Seamanship
Education, Knots, Law, Museums, Navigation, Safety, more...
Gear and Equipment
Everything for your boat!
General
Cruising, Lighthouses, Marine Art, Modeling, Pirates, Racing, much more...
Marine Life & Marine Biology
Aquariums, Dolphins, Oceans, Whales, more...
News and Events
Blogs, Event Calendars, Forums, Magazines, News...
Organizations
Boating Organizations, Class Associations, Yacht Clubs...
Professional and Services
Boatbuilding, Charter, Crew, Delivery, Financing, Insurance, Marinas, Survey, USCG, more...
Regional
Resources by Region, by State and worldwide...
Watersports
Canoeing & Kayaking, Fishing, Scuba Diving, Windsurfing, more...
Weather and Tides
Imagery, Marine Weather, Tides & Currents, Tropical Storms, much more...
---
News - Today's Boating & Yacht Racing News

---

Sailing Scuttlebutt